O Guia do First-Time Homebuyers
No feriado Memorial Day, que ocorre na última segunda-feira do mês de Maio, os americanos em todo o país celebraram os corajosos homens e mulheres do serviço militar que morreram defendendo nosso país. E é no fim de semana do Memorial Day que damos início ao verão, frequentemente um fim de semana repleto de encontros familiares, festas na piscina, desfiles e churrascos no quintal. E é nesse clima de descontração do verão que o mercado imobiliário pega fogo!!! A agitação do verão motiva mais vendedores a listarem as suas casas, fazendo com que o inventário de imóveis suba ainda mais do que no início para a primavera, trazendo para você que busca sua nova casa mais opções na hora da compra.
Comprar a primeira casa é um dos marcos mais emocionantes em nossas vidas. É o começo de uma jornada para construir um lar e criar memórias duradouras. No entanto, esse processo também pode ser desafiador e confuso, especialmente para aqueles que estão sonhando em comprar sua primeira casa. Felizmente, existem vários programas e opções de financiamento disponíveis para ajudar os First-Time Homebuyers a transformarem esse sonho em realidade. Neste artigo, discutiremos alguns desses populares programas nos Estados Unidos: Agência Estadual MassHousing, HomeReady, HomePossible, FHA, VA e o USDA.
A maioria dos compradores que buscam a casa própria serão elegíveis para financiamento com entrada a partir de apenas 3%, mas muitos compradores de primeira viagem terão acesso a financiamento de 100%, além de obterem assistência para o dinheiro de entrada, conhecido por aqui como "Down Payment Assistance", que pode facilitar a compra de uma casa.
MassHousing

é um programa de agência estatal "quase pública", cuja principal missão é ajudar os compradores de imóveis de primeira viagem de média renda em Massachusetts. Ele oferece uma variedade de opções de financiamento acessíveis, incluindo empréstimos que chegam a 100% de financiamento, com taxas de juros competitivas, sem seguro hipotecário privado (PMI). Atualmente esse programa oferece de fundos para a entrada que variam entre $30,000 `a 50,000 dólares com juro de 0.00%. Além disso, o programa também oferece orientação e educação financeira para ajudar os compradores a tomarem decisões informadas ao longo do processo de compra da casa.


HomeReady

, oferecido pela Fannie Mae, e o HomePossible oferecido pela Freddie Mac, são programas projetados para ajudar famílias de renda média a superar os desafios financeiros associados à compra de uma casa. Oferecem entradas a partir d 3% em empréstimos com uma taxa de entrada reduzida e até mesmo usar fontes de renda não tradicionais, como aluguel de quartos, para aumentar sua elegibilidade.


FHA,

é um dos mais conhecidos e populares programas. Administrado pelo Departamento de Habitação e Desenvolvimento Urbano dos EUA, oferece empréstimos com entradas a partir de 3.5% em casas de 1-4 famílias, e critérios de qualificação mais flexíveis. Isso permite que os compradores com histórico de crédito limitado ou renda variável obtenham. Além disso, o FHA também oferece a opção de financiar os custos de reforma ou reparo da casa por meio do programa de empréstimo 203(k).


VA,

respaldada pelo Departamento de Assuntos dos Veteranos dos Estados Unidos, é aberta apenas para aqueles que serviram ou estão servindo nas forças armadas e para alguns cônjuges sobreviventes. Oferece 100% de financiamento, sem seguro mortgage, além de custos de fechamento mais baixos... os empréstimos do VA são difíceis de superar.


USDA

, regulamentado pelo Departamento de Agricultura dos Estados Unidos (USDA) também oferece 100% de financiamento, com taxas de juros favoráveis e sem seguro hipotecário privado (PMI). Este programa destina-se a famílias de renda média, em áreas de baixa densidade demográfica.
Lembre-se de que a compra de uma casa é um compromisso financeiro significativo. É importante consultar um especialista em empréstimos hipotecários para obter orientação personalizada e encontrar o programa que melhor atenda às suas necessidades. Ao considerar a compra da sua casa, é crucial explorar todas as opções de financiamento disponíveis para você. Os programas mencionados acima são apenas algumas das opções mais populares do mercado, e cada um possui seus próprios pré-requisitos de qualificação e benefícios.
Eu sei o quanto a correta administração financeira é importante para o sucesso de cada indivíduo e família neste país. A decisão de efetivar a compra de uma casa contribui de forma significativa para esse sucesso. Não tenho dúvidas de que este será outro marco importante em sua vida.
e-book: Home Buying 101
Seu Guia para a Compra de Imóveis Baixe gratuitamente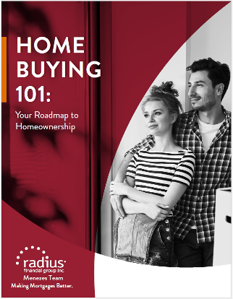 Por Fabiana F Menezes
Consultora de Financiamento MLO NMLS# 46862, Coach de Finanças, e Empresária.
Entre em contato com Fabiana Menezes
Conecte-se comigo para entender os diferentes tipos de empréstimo disponíveis.
Eu e minha equipe, o Menezes Team da Radius Financial Group, estamos prontos para guiar você passo-a-passo, oferecendo orientação personalizada para maximizar a sua capacidade de qualificação com termos de crédito mais favoráveis.
Envie seus comentários e perguntas para: MenezesTeam@radiusgrp.com
Cell/WhatsApp: 617.901.2044 & 978.618.7155
The First-Time Homebuyers Guide
On Memorial Day, which occurs on the last Monday of May, Americans across the country celebrated the brave men and women of the military who died defending our country. And it is over the Memorial Day weekend that we kick off the summer, often a weekend filled with family gatherings, pool parties, parades, and backyard barbecues. And it is in this relaxed summer atmosphere that the real estate market heats up!!! The summer frenzy motivates more sellers to list their homes, increasing the inventory even more than in the early spring, providing you, the homebuyer, with more options when shopping for homes.
Buying a house is one of the most exciting milestones in our lives. It is the beginning of a journey to build a home and create lasting memories. However, this process can also be challenging and confusing, especially for those who are dreaming of buying their first home.
Fortunately, there are several programs and financing options available to help repeated and first-time homebuyers turn this dream into a reality. In this article, we will discuss some of most popular programs in the residential mortgage market: State Agency Loan MassHousing, HomeReady, HomePossible, FHA, VA, and USDA.
Most buyers shopping for owner occupied homes will be eligible for financing with down payments starting in as little as 3%, but many first-time buyers will have access to 100% financing, as well as Down Payment Assistance that can facilitate the purchase of a home.
MassHousing

is a "quasi-public" state agency, with primary mission is to help low- and moderate-income first-time homebuyers in Massachusetts.

It offers a variety of affordable financing options, including loans with up to 100% financing, competitive interest rates, and no private mortgage insurance (PMI). Currently, this program offers funds for down payments ranging from $30,000 to $50,000 with a 0.00% interest rate. Additionally, the program also provides guidance and financial education to help buyers make informed decisions throughout the home buying process.


HomeReady, offered by Fannie Mae, and HomePossible, offered by Freddie Mac, are programs designed to help middle-income families overcome the financial challenges associated with buying a home. They offer down payments starting at 3% on loans with reduced entry rates and even allow the use of non-traditional income sources, such as renting rooms, to increase eligibility.


FHA, is one of the most well-known and popular programs. Administered by the U.S. Department of Housing and Urban Development, it offers loans with down payments starting at 3.5% on 1-4 family homes and more flexible qualification criteria. This allows buyers with limited credit history or variable income to obtain financing. Additionally, FHA also offers the option to finance home renovation or repair costs through the 203(k)-loan program.



VA,

backed by the U.S. Department of Veterans Affairs, is open only to those who have served or are serving in the military and for some surviving spouses. With no down payment or mortgage insurance requirements, and lower closing cost… VA loans are hard to beat.



USDA, regulated by the U.S. Department of Agriculture, also offers 100% financing with favorable interest rates and no private mortgage insurance (PMI). This program is intended for middle-income families in low-density areas.
Remember that buying a home is a significant financial commitment. It is important to consult with an experienced mortgage loan originator that is specialized in residential loans for personalized guidance and to find the program that best suits your mortgage financing needs. When considering the purchase of your home, it is crucial to explore all the financing options available to you. The programs mentioned above are just a few of the most popular options in the market, and each has its own specific requirements and benefits.
I know how important proper financial management is to key to success of every individual and family in this country. The decision to purchase a home contributes significantly to that success. I have no doubt that this will be another important milestone in your life.
e-book: Home Buying 101
Your Roadmap to Homeownership download for free.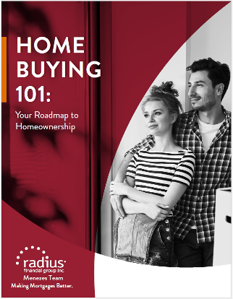 By Fabiana F Menezes
Mortgage Loan Originator MLO NMLS# 46862, Financial Coach, and Entrepreneur
Get in Touch with Fabiana Menezes
Connect with me to understand the different types of loan options available.
The Menezes Team will work with you to craft a mortgage plan that meets your unique needs.
Send your comments and questions to MenezesTeam@radiusgrp.com
Cell/WhatsApp: 617.901.2044 & 978.618.7155