Programas de Compra com Reforma em Um Único Financiamento
Se você está tendo dificuldades para encontrar uma casa pronta para morar que seja financeiramente acessível, pode ser a hora de considerar outras opções. Ampliar os tipos de propriedades para incluir imóveis a serem reformados, aqui nos EUA conhecidos como Fixer-Uppers, ou dar uma segunda olhada em sua casa atual pode lhe dar mais opções de escolha e tornar mais fácil para você morar na casa dos seus sonhos e fazer uma decisão financeira mais econômica.
Empréstimos para reforma, aqui conhecidos como Rehab Loans, podem fornecer mais opções para "entrar" a casa perfeita. Esses empréstimos permitem que você compre uma casa que precisa de reforma por um preço mais baixo, dando a você a oportunidade de transformá-la em uma casa que atenda às suas necessidades pessoais e gosto. Além disso, você pode adicionar o custo da reforma ao empréstimo de compra na aplicação bancária em programas que permitem entradas a partir de 3.5%. Tudo isso em um único financiamento fixo por 30 anos, onde 100% dos juros desse empréstimo são dedutíveis no imposto de renda.
Rehab Loans podem ser usados em praticamente qualquer tipo de reforma que você imaginar. As reformas estruturais incluem tornar a casa habitável, como consertar encanamento ou elétrica, refazer o telhado ou fundação, ou podem ser usadas para melhorar sua qualidade de vida ao adicionar uma lavanderia ou até mesmo incorporar uma adição na propriedade, ampliando assim o número de quartos, suíte master, área residencial, garagem coberta e muito mais. As reformas cosméticas, por outro lado, são mais superficiais e incluem a renovação de cozinhas e banheiros desatualizados, reforma de pisos, nova pintura nas paredes ou a compra de novos eletrodomésticos
Comprar uma casa pronta para morar não garante a casa dos seus sonhos. Estatisticamente, é muito provável que você gaste pelo menos US$33.500 em reformas após a compra de seu imóvel. Com os preços das propriedades em alta histórica devido à escassez de estoque de casas em nosso mercado atual, adquirir um imóvel pode ser um investimento mais alto do que você havia originalmente planejado. De acordo com o estudo Houzz & Home de 2023, 72% dos proprietários fizeram reformas desde a compra de suas casas, com um gasto médio de US $20.000 para cozinhas e US $13.500 para banheiros em 2022.
O dinheiro que você investe em sua casa raramente é desperdiçado. Melhorias, como a reforma da cozinha e do banheiro, não só melhorarão sua qualidade de vida, mas também acrescentarão valor à sua propriedade. O que você acha? Por que não incluir imóveis que precisam de reforma na sua busca de sua casa? Escolher comprar uma casa para reformar ou financiar uma reforma em sua casa atual pode ser uma decisão muito inteligente.
» Gostaria de saber qual é o seu poder de compra?
Para quanto de empréstimo você ser qualificaria?
Download/Baixe o App no seu celular e acesse a página "Affordability Calculator"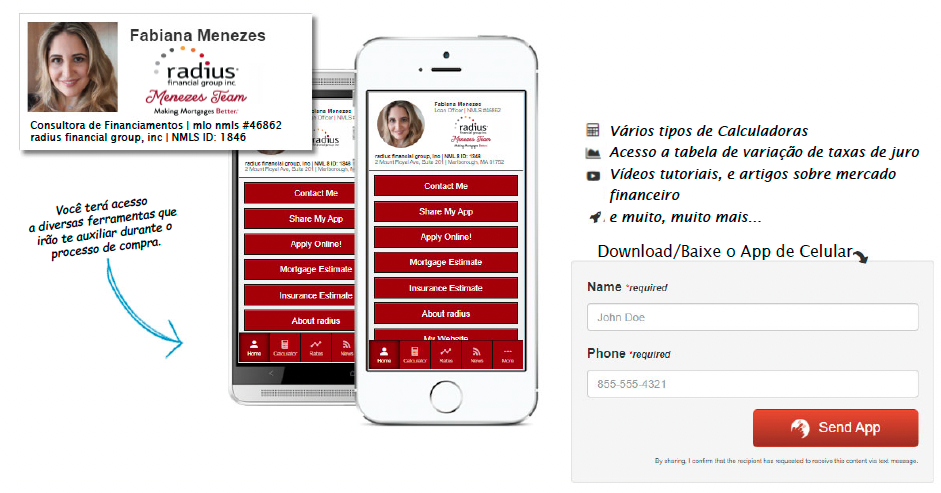 Conclui-se, que a compra da casa própria é um investimento substancial, e que os custos nem sempre são óbvios à primeira vista. Reforça-se que, entre os vários benefícios, estão a oportunidade de comprar uma casa mais barata e obter fundos para personalizá-la, atendendo às suas necessidades e preferências. Isso evita ficar sem reservas financeiras ou ter que contrair novas dívidas com cartões de crédito, que têm juros altos e curto prazo de pagamento. Por fim, é possível desfrutar de benefícios fiscais que permitem deduzir 100% do dinheiro pago em juros hipotecários, o que ajuda na declaração do imposto de renda.
» Gostaria de saber quais são os próximos passos a serem tomados?
Envie suas perguntas para menezesteam@radiusgrp.com
ou por texto e WhatsApp 617.901.2044
Sobre a autora: Fabiana Menezes, é uma Consultora de Financiamentos, Empresária no Ramo Imobiliário e Coach Financeira, trabalhando na indústria bancária desde 2004. Seus 18 anos de experiência a tornam uma autoridade no assunto de finanças imobiliária » SAIBA MAIS.
Rehab Loans, Buy & Renovate with One Mortgage Loan
If you are having difficulty finding a move-in ready home that is affordable, it may be time to consider other options. Broadening your search to include fixer-uppers or taking a second look at your current home can provide more choices and make it easier for you to live in your dream home while making a more financially sound decision.
Rehab loans can provide more options for "getting into" the perfect home. These loans allow you to buy a home in need of renovation at a lower price, giving you the opportunity to transform it into a home that meets your personal needs and taste. Additionally, you can add the cost of renovation to the purchase loan in bank application programs that allow for down payments as low as 3.5%. All of this in a single fixed 30-year loan, where 100% of the interest on this loan is tax-deductible.
There are several types of Rehabs Loans, and they can be used for practically any type of renovation you can imagine. Structural renovations include making the house habitable, such as fixing plumbing or electrical, redoing the roof or foundation, or can be used to improve your life by adding a laundry room or even incorporating an addition to the property, expanding the number of rooms, master suite, living area, covered garage, and much more. Cosmetic renovations, on the other hand, are more superficial and include updating outdated kitchens and bathrooms, renovating floors, new wall paint or purchasing new appliances.
Buying a move-in-ready home does not guarantee you will get your dream home. Statistically, you are very likely to spend at least $33,500 on renovations after buying your property. With property prices at historic highs due to the shortage of homes on the market, acquiring a property may be a higher investment than you originally planned. According to the 2023 Houzz & Home study, 72% of homeowners have made renovations since purchasing their homes, with an average spend of $20,000 for kitchens and $13,500 for bathrooms in 2022.
The money you invest in your home is rarely wasted. Improvements like renovating the kitchen and bathroom will not only improve your quality of life but also add value to your property. What do you think? Why not include fixer-upper properties in your search for your home? Choosing to buy a home to renovate or finance a renovation in your current home can be a very smart decision.
» Would you like to know how much you qualify for a loan?
Download the App on your mobile to access the "Affordability Calculator".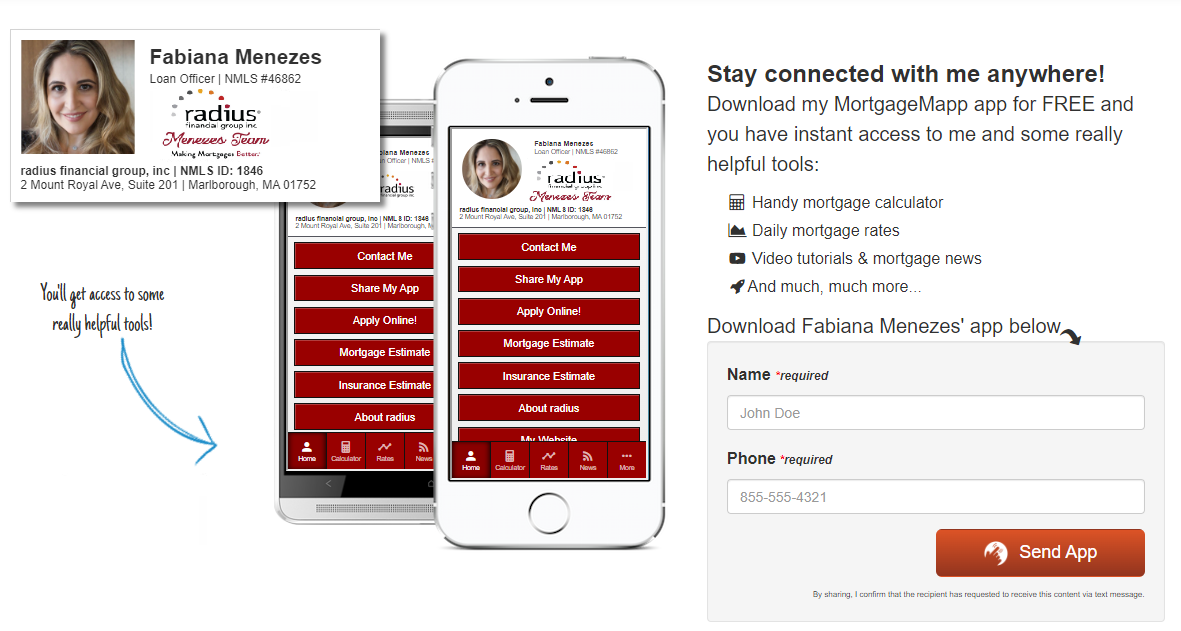 In conclusion, buying a home is a substantial investment, and the costs are not always obvious at first glance. It is reinforced that among the various benefits are the opportunity to buy a cheaper home and obtain funds to customize it to your needs and preferences. This avoids running out of financial reserves or having to take on new debts with credit cards, which have high interest rates and short repayment terms. Finally, it is possible to enjoy tax benefits that allow you to deduct 100% of the money paid in mortgage interest, which helps in filing income taxes.
» Would you like to know what the next steps are?
Send your questions to menezesteam@radiusgrp.com
or by text and WhatsApp 617.901.2044
About the author: Fabiana Menezes is a Mortgage Loan Originator, a Real Estate Entrepreneur, and Financial Coach, working in the banking industry since 2004. Her 18 years of experience make her an authority on real estate and finance. » MEET FABIANA.